BYU Alumni Series: Eric Drage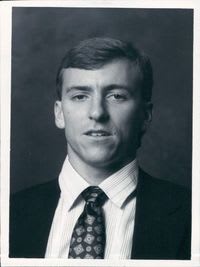 Coming out of high school, who were you recruited by who and what made you decide on coming to BYU?
I was recruited heavily by Stanford and Washington. I was from Tucson and the UofA wanted me to walk on. I always thought that was funny. I decided on BYU because of their offense. I'd like to say there was some moral reason but I was a receiver and I wanted to catch the ball. What better place than BYU?
What coach recruited you from BYU and what do you remember them telling you and your family about why you should go to BYU?
I was recruited by Mel Olson. Really, he didn't have to do a huge sales job. I loved the offense and what they stood for. He did tell me I'd have a chance to play right away, and if things had gone a little different, I would have.
Let's put memory to the test. What was your favorite play and why?
Definitely Red Right 63 Z corner. We ran the post cross multiple times to set up the corner. Those DB's were ready to jump the cross then you stick your foot in the ground and go corner. See ya!
Playing in the BYU Utah rivalry what did you like most about it? What didn't you like about it and what are your thoughts of the possibility of it ending?
I loved the friendships you developed and banter you had with guys over the years. I remember playing in the East/West Shrine game with Jamal Anderson and we were at the Shriner's Hospital talking with some sick kids. We'd talk some trash and have some fun and the kids loved it. In the end, those guys were just football players doing a job. I really liked many of them. (Does that mean we didn't hate them during rivalry week? NO!) What I didn't like was the overzealous Utah fans. Still don't like'em (wink). We were playing at Rice Eccles and there had been a big snow storm so there was plenty of ammo in the stands. Our center Gary Pay took an ice ball to the face and got cut. No place for that.
You scored a 97 yard TD versus Utah your sophomore year it was one of three TD's that day. What do you remember about that day?
Needing oxygen after that score! I remember running right by Coach McBride and seeing him look dejected. I also just knew I'd be caught since I was so slow but I think I actually pulled away. We got down early and were struggling a little. Then we got backed up and needed a play and Coach Chow called a gutsy play and Ty put the ball where it had to be. All I could do was catch it and score. We got back in the game and took it to them the rest of the way. Sadly, what I remember almost as much was the middle screen that would've scored if I didn't look up field too soon. Catch the ball first! lol
Tell us something about LaVell that we would not know.
Truly one of the funniest men I know. He has such a great (albeit dry) sense of humor. I was a team captain my Junior and Senior years and we got to spend a lot of time with him and he kept us laughing a lot. He also cheats at golf. Well if an extra mulligan in a scramble counts! haha
I asked Margin Hooks this and since I love pranks, tell us a prank that you saw or were a part of associated with the team.
There are a few I don't dare share. However here was my introduction to Detmer. Freshman year Ty comes up and is holding his mouth like it hurts. He asks if I have any cavities and that he thinks he might have one. I say yes so he asks me to show him. Like a dumb Frosh, I open wide and tip my head back. Next thing I know, I got a huge clump of grass in my mouth and I'm coughing up a storm. Real classy Ty! ;-)
What are your thoughts on the program now?
How can you not be happy with consistently winning and playing great opponents? I am not a big fan of Independence and I really hope we can get in a conference that makes sense. But the product Coach Mendenhall puts on the field year in and year out is great, very athletic and high moral standards. Hard to beat that!
What players do you remain close to?
I stay in touch with Steve "Uzi" Clements and Lenny "pump my gas" Gomes. I also stay in touch with Joe Herrick, Mike Johnston and some others. I coach a Semi Pro football team, the Wasatch Revolution, and we have some ex players (much younger than me) that I interact with a lot. It's truly a brotherhood and doesn't matter when you played; we all went through the same type of things.
What are you up to today?
I live in Riverton and don't have any plans of leaving Utah. I work in sales for a company called ProKarma. We are a full-service IT company that specializes in software development and QA. We also do a lot in the mobile space.
What is the last thing you want to tell CougarNation?
This is going to be a great year!! My honest prediction is 11-2. If we get a few breaks we got a shot to be special!