Margin Hooks talks about his time at BYU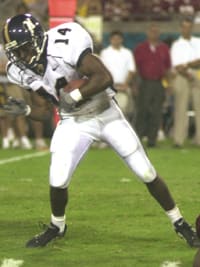 One of the top WR's to play at BYU is Margin Hooks. Hooks who played high school ball in Texas had no connection to BYU and turned down some big local universities to spend his time playing in Provo under Coach LaVell Edwards. Hooks who started as sophomore also played with current BYU coaches Brandon Doman and Ben Cahoon. He caught up with CougarNation to tell us what he is up to.
Coming out of Texas you were recruited by TCU, Oklahoma, and Texas Tech just to name a few. What factored in your decision to come to BYU?
The decision to come to BYU was based on the playing time that would be available after my red-shirt year, the fact that they threw the ball a lot, and the Nike and ESPN contract was a selling point.
Playing for LaVell Edwards, a legendary coach. What is the most memorable thing you remember about him?
The most memorable thing about him was that his office was open for anything I needed. Not just football situations, but life. The best advice he gave me was when being interviewed "Tell them everything they want to know, but tell them nothing of it". In other words don't give them ammo to use against you.
What was your most memorable moment as a BYU player?
My most memorable moment was scoring my first touchdown of my career in Texas with my entire family watching. (At SMU, BYU won 19-16 in OT)
While at BYU, what was the best prank in the locker room you saw or were a part of?
Someone put a plastic trash bag in the bottom of a locker and filled it with water, so that the only way he could get his pads was by emptying the water on everything. That day it was 40 degrees at practice.
You played several years in the NFL, how well did BYU prepare you for the NFL?
I spent three years in the NFL. BYU prepared me with the knowledge of offensive schemes which make the transition a lot smoother.
What are your thoughts on BYU leaving a conference to go Independent?
I think it was a great move. It allows more flexibility with the scheduling, especially against college powers and also attracts more recruits.
Tell us what you are doing now days?
Today I am in the Dallas area where I am the Offensive Coordinator at Dallas Woodrow High School. I also am the CEO of Sky's the Limit Training, where we perform position specific skill set training for all ages. We also put on youth camps throughout the metro plex and partner with VIP Recruits (Will Snowden CEO) out of Utah and participate in camps in the Utah Valley area.
What is the last thing you would like to say to CougarNation?
I am proud and honored to have been a part of the BYU family and will always support and be a COUGAR.